7/31/2005
I really need to not have two blogs.
Saturday's Chillin event was a big success, check out my
LiveJournal
for a camera phone photo of the ginormous crowd. Lots of people-watching and getting to hang out with Audree (her
Dutchy
booth was next to mine) plus getting paid cash for things I made. Not a bad way to spend a Saturday night.
Today I got perhaps the
best surprise gift EVAR
: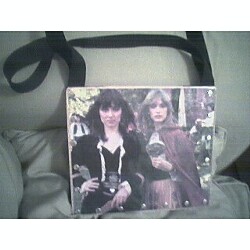 It's a tote bag made out of a copy of Heart's
Little Queen
on vinyl. This rules because I named my jewelry line after this record (and song), plus the fact that I want to
be
Nancy Wilson. No one could possibly appreciate this little tote bag more than me. Pet-sitting for Jet and Nemo is fun enough without getting an amazing present. Thanks Audree!