6/22/2005
Read my
review
of Feist's opening gig for Rilo Kiley at the Grand, if you please.
Sunday July 19th could go down as the best day of 2005. It's certainly going to be hard to top it.
It started out with my bus trip down to
Stern Grove
to see John Doe open for Lucinda Williams. I took two buses from my house, both of which showed up right on time and got me to Stern Grove with ease. I'd never been to the venue before, so I was understandably awe-struck by the beauty of an outdoor stage nestled amongst a grove of towering trees. Apparently the facilities just went through a major upgrade, so the sound was amazing and the backstage area was plush. The weather was perfect and fogless, and the sun shone a little hotter than usual for San Francisco.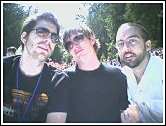 Penn and Ms. V met up with me and we spent plenty of time hanging out with Nick, Chris and Richard, who I affectionately nicknamed the
Luca's
, seen here. The quote of the day came from Nick:
You know, "Sex and the City" revolutionized "Oprah."
Ah yes, the usual backstage rocknroll banter.
When JD and the band played, we sat out at the VIP tables and were treated to sunshine and free refreshments, which totally made up for their Mountain Winery show being rained out. I got to see several friends including Mel and DKatz -- there were thousands of people there. Lucinda rocked, and the rest of us had a great time hanging out, drinking wine and talking about anything and everything.
After we left the grove, we had a great dinner at Indian Oven and then ran into Blakely and Xav on the street on our way out. To make a perfect day even better, JD brought me and the Luca's to the Fillmore to see the Spoon show. We sat up in a back balcony (I never knew those existed) and watched a very tight and professional set by Spoon. It lacked a personal feel, since Britt hardly spoke between songs, but they did deliver and made fans out of my initially skeptical companions. After running into Britt and JV after the show, it was time to call it a night.
Perfect Sunday, in my book.