5/11/2005
You could be like me and listen to
Gimme Fiction
on Real Rhapsody, since I don't have the record yet (update: the gift fairy just brought me a copy! Thanks buddy!). Track 3, "I Turn My Camera On," was the one Mike, Britt and Jim were mixing when I visited them
that day
in Brooklyn. I think my favorite song so far is "I Summon You." For those of you not keeping track,
Spoon = genius
. Too genius to be fully appreciated in the now, I reckon. Britt deserves at least as much adulation as Sir Jack White, if not more.
Jen, my fellow -ist, posted a very interesting mp3 on her
Daily Refill blog
today. It's Angela McCluskey covering "
Love Is Stronger Than Death
." This is one of my favorite songs (I put it on a special mix last year) from one of my all time favorite albums,
The The's Dusk.
Here is the original, for your listening pleasure:
mp3:
The The "
Love Is Stronger Than Death
" from the album
Dusk
[
BUY IT
]
On Sunday I volunteered with an organization called
One Brick
. It's a really painless way to volunteer without any paperwork or commitment; just go to their
calendar
and sign up online for what you'd like to do. I joined a large group of volunteers to "beautify" Justin Herman Park in the rain on Sunday morning. Beautify means pulling weeds and spreading wood chips. The rain actually wasn't that bad, I got to do something nice for the city, and I made a few friends as well. If you live in SF, New York or Chicago, check it out.
Grapefruit salsa
, y'all.
Basically you take your favorite salsa recipe and replace the tomatoes with grapefruit. Chop up the grapefruit and add white onion, cilantro, jalapeño, the juice of a lime, garlic and a tiny bit of sugar. Yummm. (This janky photo is from my camera phone, which lacks the quality control of, say, a real camera.)
Just call me
Nostradamus
. First, read this item I wrote for the Bitch List in the issue of Bitch Magazine that came out this spring: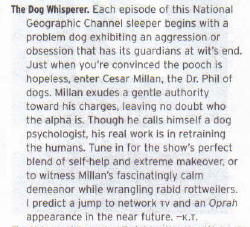 Hmm...who was on
Oprah on Monday
? Oh yes,
CESAR MILLAN
! Our very own beloved Dog Whisperer himself was tackling the issues of Oprah's dog Sophie. Unfortunately the
Oprah
segment wasn't as informative or entertaining as Cesar's own show; Oprah's producers focused more on her stressing out than on Cesar's rehabilitation. Also, I think Cesar was a little nervous. He did get a big laugh when Oprah freaked out about his gentle pit bull, Daddy, and he reassured her by saying, "He's just energy, in a different outfit." Now millions more people can love him as much as we do. Go Cesar!