10/27/2004
Last night there was an eerily silent but beautiful lightning storm here in San Francisco. There wasn't any rain or any thunder, just lightning going off like flash bulbs in the night sky. Tonight should be just as much of a spectacle with the
lunar eclipse
. According to my careful calculations, here are the stats for this evening:
Moonrise: 6:09 pm
Moon enters umbra: 6:14 pm
Moon enters totality: 7:23 pm
Middle of eclipse: 8:04 pm
Moon leaves totality: 8:44 pm
Moon leaves umbra: 9:53 pm
Moon leaves penumbra: 11:02 pm
Moonset: 8:06 am
OK fine, those aren't my calculations, I got them by using the
Lunar Eclipse Computer
, which you can use to calculate optimum viewing times in your neck o' the woods.
I need to get out of the rock I've been living under, because I had no idea Courtney Love was playing the
The Fillmore
last night until I read a concert review this morning. I saw Courtney live almost exactly a decade ago -- it was November 1, 1994, and
Hole
was headlining with very underrated opener
Veruca Salt
. It was the beginning of my sophmore year at UT and I had gotten to
Liberty Lunch
hours early with my friend
Jenny
who was also a huge fan of both bands.
When the doors finally opened, we positioned ourselves front and center behind the stage barricades, preparing ourselves to be smushed, overheated and totally impressed. We were enraptured by Veruca Salt's set, our heads turning to and fro as if we were spectators at a tennis match, trying to give equal attention to the sultry rockness of both Nina, stage left, and Louise, stage right.
Then came Hole's set. It was the morning after Halloween, which must have been quite a night for Courtney judging by the crusted body glitter and make-up caked over her face and drug-scarred arms.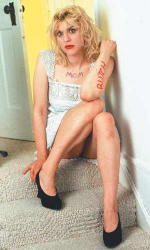 She was hoarse and hungover and cranky as hell; she could hardly sing but her presence was performance enough. At one point she screamed offstage to someone to get her a shot of whiskey. As I remember it, Jenny turned to me and whispered, "As if she
needs
one." In a remarkable feat of acoustics, we think Courtney somehow heard the comment from the stage, inspiring her to throw the cup of whiskey onto the audience members in the first few rows.
I escaped to the back of the club before the encore, wherein Courtney engaged in a scantily-clad crowd surfing expedition, then proceeded to berate the audience for groping her, sticking her mic in the faces of Jenny and others in the front row, demanding an explanation for their behavior. She capped off the performance by announcing she'd never play Austin again and storming away.