9/28/2004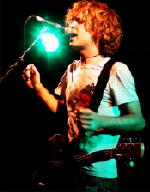 It was a busy weekend, with shows to see and friends in town. It was good to see
Andy
at Bimbo's on Thursday and judging by their set, I can't wait for the new
Now It's Overhead
record. If my constant mention of NIO hasn't prompted you to listen to them yet, please do so now:
"The Decision Made Itself"
mp3
. The beautiful
Orinda
from
Azure Ray
was on bass and backup vocals in NIO and also played in Rilo Kiley's horn section. To quote Andy, "Yep, she's a badass."
Friday night was the
Pixies
show at the Greek Theatre in Berkeley with Josef, Joe and Emily. We managed to find a good spot down on the floor and the weather was awesome. Unfortunately I'm now a total brat when it comes to show watching experiences; I prefer small venues, or if it's a big venue it's so much nicer to watch from an isolated area. I know, shoot me. I proved how old and crochety I am when I got annoyed with the little guy behind me blowing pot smoke past my ears. I'm totally square.
On Saturday morning I got some beautiful heirloom beans from
Rancho Gordo
at the
Ferry Plaza Farmer's Market
. There's no better way to spend a Saturday morning, I don't think. Saturday night Ashod came into town and we hung out with Mike, Mike and Leslie at the Latin American before splintering off to meet Josef and Melissa at Tom and Jen's house. Apparently Jen's a great designer who's been keeping her talents under wraps, so I took it upon myself to harangue her about being more confident in her work. I hope I managed to come off more inspiring than grating.
We finally ended up at a
Swedish slow dance party
. If this isn't already a new party genre, it needs to be. I didn't end up meeting any of my fellow Swedes but we did have a great time dancing in their living room.
I'm not a big fan of dishware, but I'm a fan of
Sarah Cihat
's designs.