9/11/2004
I'm headed back to the 2nd day of our trunk show in a few minutes. My friend asked me if a trunk show was a show where we display our wares in a trunk, or where we sell whatever we can haul into the place in a trunk. I love these kinds of questions because they make me wonder about the origins of words and phrases. Trusty ol'
dictionary.com
defines
trunk show
thusly:
"A traveling collection of designer clothing or jewelry, displayed in various stores."
Maybe we should have called it a sample sale instead, because we're not traveling really. We're just sitting around at Janna's lovely studio in the Mission.
Paala dresses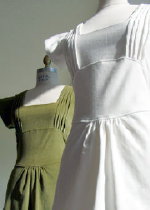 Anyhow, the other participating designers are all insanely talented and beautiful young women with sassy short haircuts. If you can't come visit us, check 'em out online:
Janna's
clothing
Nikki's
knitwear
Audree's
handbags
*Housekeeping notes: I fixed the bad link to the
Arcade Fire mp3
and also added links to some of my favorite poems (at least the ones I could find online) in the lower right margin, under the book selections.
Today's quote:
"Life shrinks or expands in proportion to one's courage."
--
Anaïs Nin
, The Diary of Anais Nin, volume 3, 1939-1944